The remote Kei Islands are known to have some of the world's most beautiful beaches, with untouched sand so powdery white that the locals refer to it as flour. This remote island chain sits in the far east of the Maluku province, close to Papua.
The Fate of a King 
I clambered up the gnarled Banyan tree, which stretched its tentacle-like branches up along the steep hillside. Seriously, it is one of the craziest things I have done of late. It was a tough climb, and I dared not look down. I was looking into the legend of an old King who had been assassinated, a story told to me the day before by the village head on Kei Kecil Island in the Banda Sea, Maluku.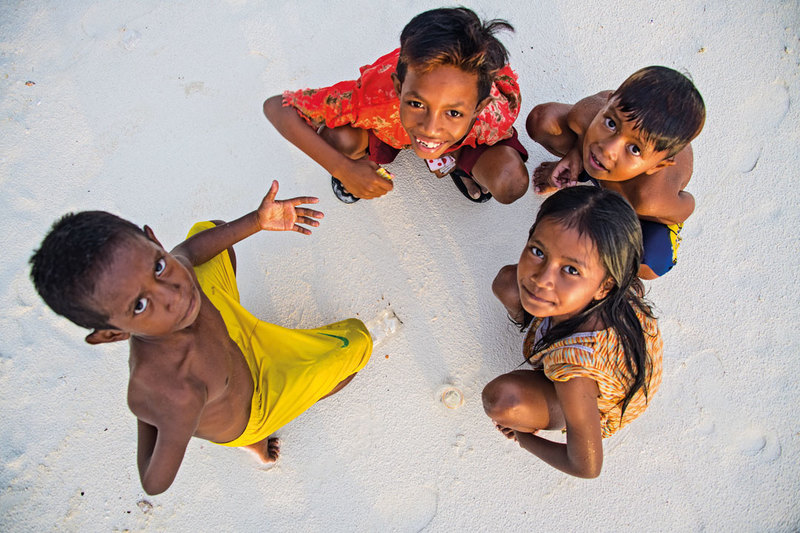 "The original people here on Kei Kecil Island actually came here from Bali," Allo Letsoin, the Kepala Desa (village leader) explained, "My people still speak about a king from those ancient times called Raja Song Sing. He was not a good man. For example, he had a rule that you had to bring him animals, like wild pigs, to eat. However, if they were already dead, he would simply kill you". He continued, "I remember my grandmother's forlorn expression as she told me this when I was a child. She would shake her head and say over and over that he was 'not fair' and he was 'very mean'. She did not offer any more detail than that, but I could sense her profound resentment, even though he had lived and died here centuries ago." Allo whispered mysteriously, "There may have been even more stories, however sometimes they are best left untold."
Allo told me that the locals at that time had been very cunning. They had apparently lured the king to the top of the hill that sits above the beautiful Pasir Panjang (long sand) Beach. What the king did not know was there was a hole at the top of the hill—a hole so deep that people said it was infinite. Once the king came to the edge of the hole, he was pushed in. "My people murdered him," Allo said with a very satisfied smile.
That is how I came to be climbing up a Banyan tree. It was apparently the shortest route to the top of the hill and to the hole, and in fact, no one had offered me an alternative route. When I finally clambered nervously from an upper bough to a smooth rock near the peak, the guide pointed to an old cannon which lay just metres away. As I approached it, I saw the hole right beside it and peered in. A deep abyss! My local guide informed me that, even to this day, measuring equipment has not been able to locate the bottom.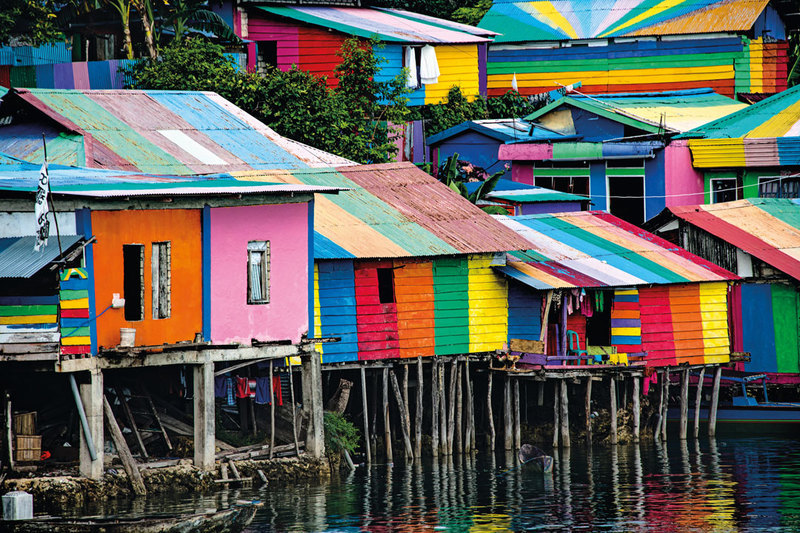 Allo explained that if you want to trace the Balinese royal bloodline throughout the Kei Islands, there are three remaining family names which descendants still use. If you meet someone with the surname Letsoin, Jamlean or Ohoiwutun, they are part of that line.
Today, the Hindu religion of Raja Song Sing is no longer followed on Kei Kecil Island—it is predominantly Christian. However, on the tiny neighbouring island of Tanimbarkei, 50 per cent of the people are Hindu.
The Kei Islands are, in fact, not short of rajas. There are 10 rajas on Kei Kecil Island alone, and 22 rajas in the Kei Islands archipelago. Along with the Balinese ancestral line, there are also people from Sumbawa, Buton, Sulawesi, Seram and Gorom Islands as well as the sultanates of Jailolo and Ternate.
So many people have found their way to this stunningly beautiful place with spectacular beaches and forested islands, which remain largely undeveloped. The islands have prolific birdlife, an exquisite marine environment and without doubt, some of Indonesia's most beautiful beaches.
Heavenly Islands
I heard from the locals that close by there was a place dubbed 'Little Raja Ampat'. I think everyone in Indonesia has heard of the breathtaking beauty of Raja Ampat in West Papua. It's on most people's wish list. I organised a local boat and guide to see for myself. We made our way towards Palau Baeer (Bair Island), an idyllic spot framed by towering rock formations and the bluest, clearest waters I have ever seen. The captain steered our course very carefully through an inlet dotted with coral islets, very much like those found in Raja Ampat but on a smaller scale.
As we continued, we had to navigate our way through a series of tall pinnacles and eventually arrived at a beautiful turquoise lagoon perfect for swimming. We were the only ones there, and my guide and I jumped into the water, swimming over to a rock ledge. Clambering over the rocks, we found ourselves at the entrance of yet another beautiful lagoon. From there, we slowly swam along a narrow waterway, which we followed until as if magically, we ended up back at the boat. What a moment!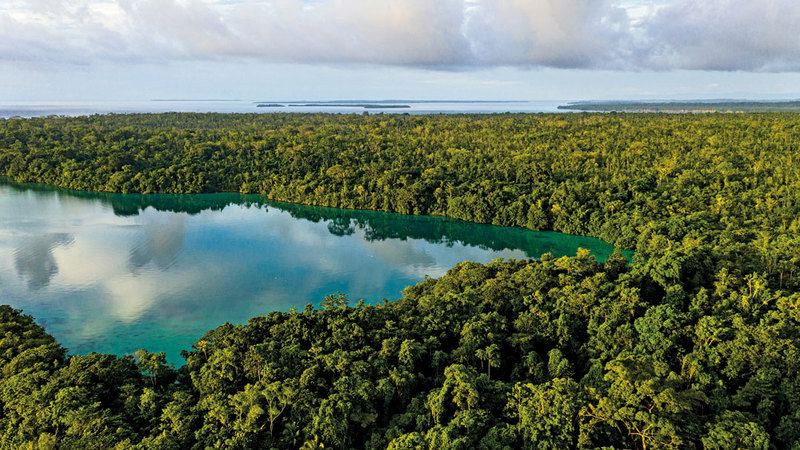 Forest Bathing
Next, our boat travelled a short distance to Duroa Island. This time we headed inland armed with a picnic basket and a thermos of hot coffee, following a small forest trail to come out another heavenly spot. In the forest was a clearing and a picture-perfect inland lagoon fanned out before us. The colour of this lagoon, fringed by forests, was a deep emerald. It was exquisite in every way. Not far from our trail was a small flat rock, the perfect spot for throwing ourselves blissfully into this natural green wonder. Again, we were the only ones there. Forest bathing at its finest – remote and raw.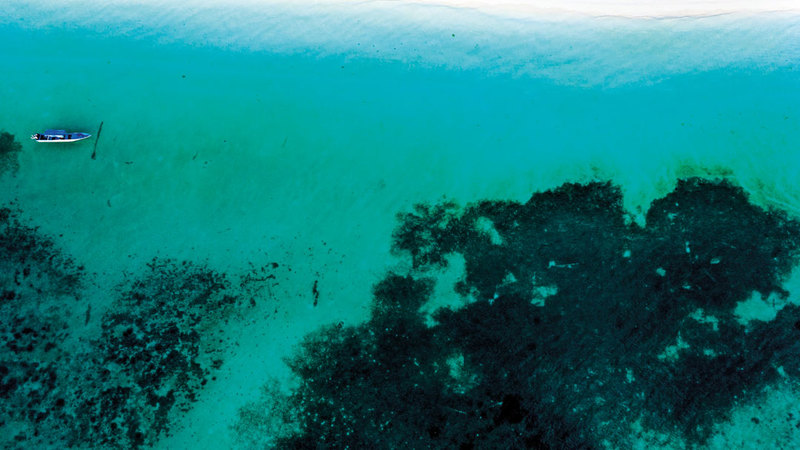 Shades of Blue
Just another 15 minutes on, we arrived at Adranan Island. We pulled into the wide-sweeping white sandy beach framed by thick forest and a plethora of tropical fish. I spent the rest of the afternoon swimming in the varying shades of baby blue, turquoise and deep cobalt blue waters. Floating around in the shallows on this deserted paradise island, it was easy to lose track of time. Again, having this beautiful island all to myself, and being just one little local boat was truly extraordinary.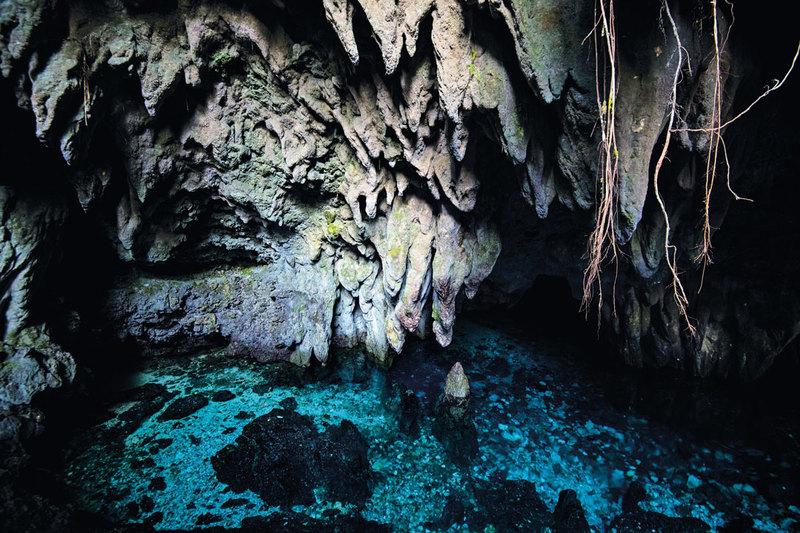 Mysterious Caves
After, we made our way back to the mainland and said goodbye to the boat captain. My guide had totally downplayed what was to come next. We drove about 30 minutes to Letvuan Village and then followed a small forest trail, coming out at Goa Hawang (Ghost Cave). The beauty of this cave left me awestruck. Just inside the cave entrance, there was a beautiful swimming hole fed by a natural spring. The water was a beautiful aquamarine colour, and the water was crystal clear. Jagged stalactites hung down from the cave roof above.
According to local legend, a man and his dog visited the cave and decided to drink from its pure spring water, however for some reason lost in time, after the man drank the water, he shouted a profanity. The spirits of the cave did not like that. He and the dog were promptly turned into stone. Therefore, when you visit the cave, you must show respect because the mystery and beauty of this place will turn against you if not. Don't swear!
The Kei Islands on the very Eastern fringes of the Malukus offer many delights. There is something timeless and magical about being on the water and island hopping all day in this extraordinary setting. With about 250 islands in the chain, the options seem endless.
Accessible by a short flight from Ambon, this far-flung chain awaits the intrepid traveller who wishes to explore one of the more remote places in this mighty archipelago.
Published Now Jakarta Magazine, Sept 2019 : Kei Islands – Caves and Kings | NOW! JAKARTA